1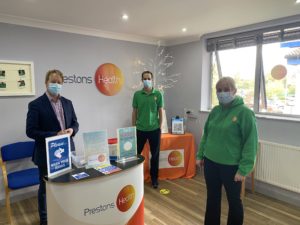 25th September 2020.
Paul Bristow, local MP for Peterborough, visited the practice this morning. Here's a summary of what we discussed:
-I personally thanked Paul and his team for helping us seek local government support to help us keep the business going during these unprecedented times. It's been a hard time for all of us here at Prestons Health with the challenges of keeping a business operational during the period of lockdown, social distancing and ongoing business pressures that the pandemic bring. No easy task with all of the team having significant family and personal commitments to compete for our time. I felt heard, thank you Paul.
-I showed Paul around the clinic and the extensive COVID precautions we are taking. Our virtual triage service prior to face to face appointments, covid self screening forms prior to attendance and social distancing both within our reception and treatment areas.  Our cleaning protocols and PPE for staff to ensure both our patients and team minimise risk of transmission.
-We talked through the impact on COVID on our business, which is based within David LLoyd Club, and therefore shut down by the government back in March 2020 until late July 2020.  We talked through how adaptable physiotherapy as a profession is and how we, and many other physiotherapy businesses, leaped into virtual consultations to help our patients during lockdown when they couldn't access our services face to face or access their GP or NHS physiotherapy services. We talked through how the legacy of the COVID lockdown "great pause" has left us with a new "hybrid" model of care where patients can access us via face to face OR virtual consults OR a mixture of the two. Up to the individual.  We are able to offer face to face consultations onsite to patients for hands on assessment and treatment purposes.  However,many conditions responded really well with virtual appointments online, where our role as coaches ( #guidebytheside) come into fruition. We shared our fabulous feedback from patients about our virtual service during lockdown. PPE is not 100% risk mitigated under any circumstances (albeit the best we can get!) and the ultimately, the safest PPE is the screen. We foresee patients in the future mixing and matching how they seek services as a sustainable model.  For further information on how to access this, see the bookings page on this website. We are also proud to be part of a wider collective across the UK in the form of physiosonline, accessible here https://physiosonline.co.uk/; a group of independent practitioners offering online physiotherapy across sectors including musculoskeletal, oncology, neurology and paediatrics.
-I shared our experience of what we are seeing and hearing from our patients currently. High demand for our services face to face and virtually. Combination of reasons for this but include low level of activity during lockdown with subsequent aches and pains, inconsistent activity, home working, stress……..and also the difficulties many of our patients are facing in accessing GP appointments and physiotherapy NHS referrals.  I shared how much of my time recently has been listening to patient stories of frustration of not being able to get their aches and pains assessed in traditional healthcare settings and how we are helping them navigate the NHS services that they require through contacting GPs or other local services. I highlighted how we are in a perfect position to help support the local community with their healthcare needs here in the private sector and how we hope we can help support the NHS moving forward.
-We talked through Physiotherapy as a profession.  Our role in health coaching, promotion and exercise motivation. How our understanding of the science behind pain is changing and how our approach in physiotherapy does too.  I spoke of our 3rd generation family business, established in Peterborough since 1969, and how it has evolutionised during that time. The privilege we have as a well established business in accompanying our patients through the years, getting to know and give them consistency when accessing physiotherapy. This has been heartwarming during the pandemic. Thank you to our wonderful patient base here in Peterborough, Stamford and Oundle.
-I highlighted the Chartered Society of Physiotherapy animation around how we are a key profession to help support those suffering with ill health and deconditioning when recovering from Covid-19 and the video here from the Chartered Society of Physiotherapy https://youtu.be/3sURTAaxmc8
-We discussed recruitment of Physiotherapists and how we find it hard to find experienced physiotherapists in the local area to join our team.  It's what holds us back…….The new University here in Peterborough came up in conversation and how it could potentially play a part in helping to fill the gaps in local physiotherapy provision, both NHS and privately.
Another first for 2020. Who knew we would have a MP visit the clinic? I hope we, as Prestons Health, can continue to support our local community through these times and beyond. Our prime focus is helping people in pain continue doing what they love.  It's a wonderful job we have here and we hope to make it through…………..tough times for businesses everywhere at the moment.  We appreciate every one of our patient's support. Thank you.